EliteVad
News
Check our Latest News
Basics of Business Continuity Management Webinar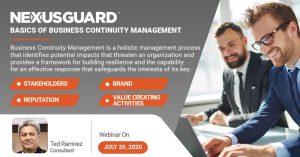 Doing business in the new normal. Are you ready for the next pandemic?
Date: 20 July 2020, 3pm, GMT+8
Business Continuity Management is a holistic management process that identifies potential impacts that threaten an organization and provides a framework for building resilience and the capability for an effective response that safeguards the interests of its key stakeholders, reputation, brand and value-creating activities.
In this webinar, we will share about business continuity best practices for organizations to become resilient and cope with the new business normal. Be ready for the unexpected like a global pandemic situation.
Register Here